Choosing a hearing professional is one of the most important decisions you can make. When you choose Audiology & Hearing Associates, we promise you'll hear the difference.
Dr. Larry Giovinazzo
Owner, Audiologist
My name is Larry D. Giovinazzo and as an audiologist I love to reconnect people with their families, friends and the things they love to do!
More About Dr. Giovinazzo
After watching several family members struggle with hearing loss over the years and the jokes my cousins and I made about them, I realized as I became older that it was no laughing matter.  The great challenges they encountered everyday just trying to communicate with loved ones even in the simplest form was frustrating for them as much as the ones they tried to talk to.
One of the first people I helped to enjoy life better is my cousin Nick.  Nick owns his own business.  He went from being a successful business person to considering selling it due to his hearing loss.  He was tired of the embarrassment he felt when he asked people to repeat themselves a few times, even if it was a family member, let alone a customer!  This was back in the late 90's and Nick still has his business because of the help I was able to provide him.
I am a Niles Rotarian and believe in supporting not only our community but mankind in general.  As an audiologist I am a member of the Academy of Doctors of Audiology, the American Academy of Audiology and the Ohio Academy of Audiology.  I served as President of the Ohio Academy of Audiology from 2007-2008 in addition to several other roles for the Ohio Academy of Audiology.
My wife Amy and I spend as much of our free time we can with our two children, Vincent & Gabriella.  Family time is the most important time there is!!  We love to vacation, go camping to a variety of other outdoor activities.  My children are starting to love some of my passions of snowmobiling, riding 4 wheelers and the like, much to Mom's dismay.  I guess kids will be kids and when I'm not at work, I'm working on being a kid again with my kids!  The smiles on their faces make the worst of the worst problems seem like nothing.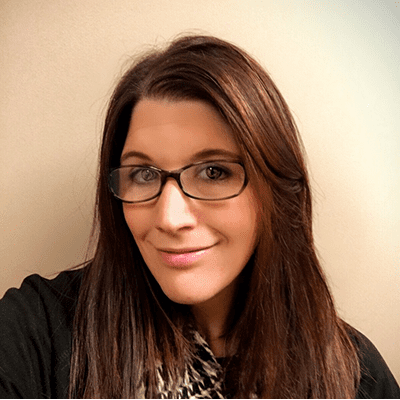 Amanda Glunt
Patient Care Coordinator
My name is Amanda Glunt and I'm the Patient Care Coordinator.  I have over 15 years of customer service experience. My desire is to clearly understand the needs of all our patients and ensure that their visit to our practice is a great one.
More About Amanda
I graduated from Niles McKinley in 2000. I joined Audiology & Hearing Associates in July 2012. I am the first person our patients have contact with when coming or calling into the office.  My first priority is to provide the warmest of welcomes to them and let them know I will listen to them.  I am a very caring and compassionate person in nature which I believe is a perfect fit for the needs of our patients.  I want to see them leave with a smile, be able to hear and to receive the most in their lives.  When I experience this my only thought is how priceless is that!
I never realized the struggle the hearing loss places on a person until I began working for our practice. I've taken all of these experiences over the years to be able to understand our patients more.  I am passionate for the work I do and I do not consider this a job because of the great enjoyment I experience from it. The satisfaction knowing all of us in the practice can make a difference in people's lives is so rewarding.  I love hearing a patient say "they can hear again"!  It is such a good feeling when someone tells me they can hear sounds they haven't heard in years and can hear their family with ease.  I have truly enjoyed getting to know each patient and helping them in any way I can.  I enjoy all the success stories that I receive from each patient.  I feel it's a wonderful and gratifying experience being part of a team that is focused on and passionate about improving a patient's quality of life through better hearing.
I enjoy my free time with my husband and 2 kids. Some of my favorite activities include: volunteering for little league football, going to the gym, traveling, trying new recipes and spending time with family and friends.
Friendly, Reliable Hearing Care
We've been providing audiological services and hearing aids to the people of Warren, Ohio since 2005. Founded by Dr. Larry Giovinazzo, an audiologist since 1995, Audiology & Hearing Associates is a healthcare practice devoted to detecting and solving hearing-related issues.
Our practice stands for patient education, open dialogue, and personalized care. From the very beginning, we've believed in developing strong bonds with our patients. We take the time to get to know you and understand your hearing needs so that we can deliver appropriate solutions and sound advice.
Patient-Focused
When it comes to treatment for hearing loss, we provide treatment based on your individual needs.
Technology Forward
Proper hearing aid selection and fitting requires the judgment and skill of a trained expert.
Budget Friendly
We work to find the hearing instrument that's right for you, your budget and your lifestyle.
A Note from Our Doctor
I'm impressed every day with the dedicated team of professionals who work with me.  Hearing loss impacts patients and their loved ones.  Our ability to work in coordination with our patients and their families is the foundation of our success.   The level of expertise and dedication to ensure our patients experience the joys of better hearing is second to none. I consider myself fortunate to be in a profession where I and my staff can make a difference every day.
"I am eternally grateful"
"My search to find the audiologist who could provide me with the best hearing aids ended when I found Dr. Larry Giovinazzo. His exam was the most complete and thorough exam that I have ever received, and the hearing aids that he prescribed enabled me to join the "hearing world" again. For that, I am eternally grateful to him!"
– Des P.
"I recommend Audiology & Hearing Associates to all my friends and family!"
"Dear Dr. Kayla McKay
I love my hearing aids! Your friendly and professional service helped me decide to purchase my hearing aids. They are easy to use and care for, and I now hear sounds I had missed out on for several years. I recommend Audiology and Hearing Associates to all of my friends and family. You are the best!"
– Eleanor F.
"I hear better and still have peace in the background"
"Kayla – Thanks – 
How do I tell you the difference the hearing aids make? The peace of not having a constant ringing in my head that makes you want to hide your head under a pillow or in a hole. The chimes been peace to my head and as you mention, I am not as up tight. I hear better and still have the peace in the background. I can turn down my husband's loud TV and turn up a soft noise."
– Dot C.
"To say he changed my life is an understatement"
"I met Dr. Giovinazzo (Dr. Larry) about a year ago, and to say he changed my life would be and understatement. My hearing aids have changed and improved my quality of life. Dr. Larry balances being professional and like being an old friend. Whenever I have a question or a problem he gets me in the office and takes care of whatever it is. Do not be afraid of getting hearing aids."
– William E.
"Gentle, compassionate care, always friendly and courteous"
"Dr. Larry is a super hearing healthcare professional! He gives gentle, compassionate care that is always friendly and courteous. He makes me feel that I am a privileged patient. His care is extremely competent and though his business relies largely on hearing aid sales he has always provided me with "gentle guidance", never a "hard sell" or "pushy technique".
I have recommended to some of my friends and family who suffer from hearing loss, and will definitely continue to do so."
– Mary C.
"Great service & staff"
"I would recommend Audiology & Hearing Associates and Larry Giovinazzo to my family, relatives and friends. Larry's service is great; he's kind and courteous, he listens, he shows empathy, and he has a great staff. Do I need to say more?"
– Florence E.
"Personable young man and very knowledgeable at his trade"
"Recently I was fitted for hearing aids at Audiology & Hearing Associates, Inc. in Howland, Oh. I was pleased with audiologist Larry Giovinazzo's presentation and the question and answer time he gave me. The results I'm having with my hearing aids are wonderful, I can hear like I normally did years ago.
Hardly anyone has noticed that I am wearing hearing aids, I like my life to be as normal as possible.
My hearing has improved considerably and I feel it was worth the money spent.
Larry Giovinazzo took time to explain many aspects of hearing loss, and the different types of hearing aids available based on a person's lifestyle. He is a personable young man and very knowledgeable at his trade. I was pleased with his ability to communicate with a "down to earth" approach, while taking time to listen and answer all of my questions. The price was reasonable and the fact that he will provide all the batteries I need for my hearing aids is what sold me. He has a friendly office environment with a very pleasant secretary as well!"
– Joseph N.
"He was very personable and listened to my needs. There was no rushing through the process of choosing a hearing device"
"After being examined by a hearing specialist, I went to Dr. Larry to inquire about a hearing aid. He was very personable and listened to my needs. There was no rushing through the process of choosing a hearing device. He told me what he believed I needed and provided me several options to choose from.
He was very helpful in showing me how to put the hearing aids in and adjusted them so they worked for me. With his help, I quickly was hearing things that I had not heard for quite sometime.
Dr. Larry never hurried me through a visit. He was patient and answered all questions or concerns.
I would highly recommend that you check with him if you are in need of hearing devices."
– George G.
"Best practice I have ever encountered"
"I have worn hearing aids for the last 20 years, both in the UK and here in the USA.
Dr. Larry's Audiology & Hearing Associates practice is the best I have ever encountered.
Thank You Larry!!"
– Stuart B.
"A very positive experience"
"Always on time. Very good equipment and a very co-operative staff. A very positive experience!"
– Lucille M.
"Extremely satisfied"
"Extremely satisfied with the services, results, and expertise of Audiology & Hearing Associates. I have made and will continue to make recommendations to relatives and friends to use their services."
– A.G.R.
"Knowledgeable and clearly answers any questions"
"I've had only good experiences with Audiology & Hearing Associates. The hearing aids are excellent. Dr. Giovinazzo is knowledgeable and clearly answers any questions. I would gladly recommend his services to anyone who is experiencing hearing loss. My hearing aids are small and very comfortable. I do not feel them when I wear them. They cut down on 'outside' noise and they are not visible."
– Margaret S.
"I would certainly recommend him to family and friends"
"My hearing loss had come gradual over the years. It had became apparent that I needed an aid. I was missing out on too many conversations.
I am so glad I chose Dr. Giovinazzo to meet my hearing needs and I would certainly recommend him to family and friends.
I appreciate all of the time and patience Dr. G gave to me and my husband. He made us feel very comfortable from the time he did the hearing test to answering all of our questions. He showed and explained the aids and gave us time to digest the information.
I am very satisfied with services they extend. It is a personal and relaxed atmosphere."
– Nancy M.